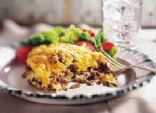 Lowfat Cheeseburger Pie
Ingredients
1lb extra lean ground turkey
1 cup Nonfat Cottage Cheese
1 Egg
1/2 Cup Chopped Onion
1 Clove Garlic (chopped)
3/4 Cup Kraft 2% Shredded Cheddar Cheese
2 Tbsp Worcestershire Sauce
1/4 cup water
3/4 cup of Heart Smart Bisquick (mix only)
4 Slices of Tomato
Directions
Preheat oven to 350
Brown Turkey Onion & Garlic in a pan
While turkey is browning mix Bisquick and water to form a dough. (add water gradually as needed for dough)Roll dough flat enough to cover a pie pan with rolling pin. (may have extra dough).
Place dough in pie pan
Mix Worcestershire Sauce in with turkey mixture
In a separate bowl, mix cottage cheese with egg
Pour turkey mixture into pie pan
Pour Cottage Cheese mixture over turkey
Top with Shredded Cheddar Cheese
Then place Tomato Slices on top and bake at 350 for 30-40 minutes.
SUBSITUTED:
- I bought reduced fat cresent rolls instead of making my own dough. That's just too time consuming, and I'm not much of a dough maker. I think I would like this better, because the crust was more flakey. I think with that dough it'd be more buiscit like texture.
- sliced tomato for canned diced tomatoes. No other reason, than that's what I had on hand.
OMITTED: Onion. Thought I'd be nice to the hubs, since he hates onions with a passion.
This was VERY delicious and is now a favorite in our household. Easy, tasty, and pretty cheap to make! The hubs liked it too!