Happy birthday to Gizmo
Happy birthday to Gizmo
Happy birthday dear Bubbers
Happy birthday to GIZMO!!
Today is Gizzy's 3rd birthday. I can't believe my baby boy is already three! That's what, 21 in dog years? So technically he's of the legal drinking age? haha!
Unfortunately, I don't really have too many pictures of baby Gizzy because I didn't have a camera at that time. It really sucks because he was the cutest puppy ever, he really was. He was just this little teeny tiny ball of fur. He looked just like a gremlin, hence why we named him Gizmo.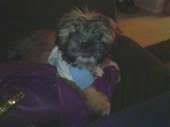 After his first haircut
Gizzy has a TON of personality. He's stubborn, loving, lazy but fun and adventurous at the same time. Gizmo loves to go hiking, car rides,camping, and most of all, SWIMMING! He swims like a fish, actually more like a beaver because that's exactly what he looks like. haha. He will go back and forth fetching his ball. Or he'll jump onto the raft with me and sunbathe. I really think that he believes he is a little human boy, not a dog. When we go to the dog park, I'll loose him... I'll be looking around for him forever, then look up and see him just chilling on the bench with someone. He's so funny. He goes everywhere with us. We even brought him on our honeymoon. What's a vacation without Gizzy?
Today I'm going to spoil him rotten! Well, more than I usually do, anyway. He's spoiled as it is. I just can't help it when I see this face...
Okay, okay. Two more. We included him in our engagement pictures. He was being so good like usual, that is until he saw the fountain and decided that it looked way more fun than taking pictures... As soon as we took him off the leash for a few more photos, he made a run for it, and jumped right into the fountain! It was pretty funny.