The cleaning challenge that is!
The Hyper Homemaker
has a Fall Cleaning Challenge going on. If you know me, you are probably thinking, yeah right. I hate cleaning, why would I want to take up a challenge? Well, all the ladies have motivated me. My husband will love you for it! I think he's falling in love with me all over. I started late and slowly. I don't have a whole lot of time to do ALL this cleaning, but I'm doing bits at a time. The challenge started at the heart of the home... the kitchen. Here's the to-do list from The Hyper Homemaker:
Day 1 - Conquering the Kitchen

Make sure daily is done:- Clear off all counter tops
- Load dishwasher
- Handwash any dishes needed
- Wipe down sink
- Wipe down stovetop
- Wipe down all the counters
- Swiffer the floor

Pantry- Take everything out of the pantry.
- Wipe down shelves.
- Toss old items and donate unused good items.
- Repackage all messy items into nice containers.
- Place all items back into the pantry in an organized fashion.

Fridge
- Take everything out of the fridge and freezer (placing items in a cooler with all the remaining ice.
- Scrub down the inside and outside of the fridge, shelves, doors, ice maker and freezer.
- Replace water filter if you have one.
- Clean fridge condenser coil.
- Toss old or useless food.
- Place everything back into fridge in an organized fashion.

Cabinets- Take ALLL your items out of all your cabinets and drawers. Yes... ALL!
- Wipe down the inside of all cabinets and drawers.
- Wipe down the inside of all containers such as utensil holders.
- Store items not used in over 6 months, or summer seasonal items.
- Thinking logically (ie - potholders next to stove, towels next to sink), try to put everything back in a more useful and purposeful place, and in an organized fashion.
- Scrub down the cupboard exteriors, from to of the kitchen to bottom.
Yikes. That's a lot of work. I got the first two done today. The basic kitchen cleaning chores. Dishes, clearing the counters, emtying and loading the dishwasher, whiping down the counters etc. Then I decided to tackle the pantry. When we moved in I was the worse packer and even worse at unpacking. Our kitchen is so small that I just didn't know where to put stuff, so instead of organizing everything, I kind of just threw stuff in the pantry. Here's what it looked like.
Dun dun DUN! Scary!
All of this was on the very top too. I started removing stuff then remembered to take a before picture.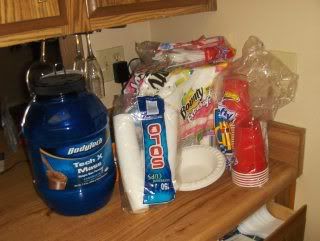 Eeek! The last of the blue carpet! Let's just pretend you didn't see that. (Note to self: get the hubs to install that tile soon)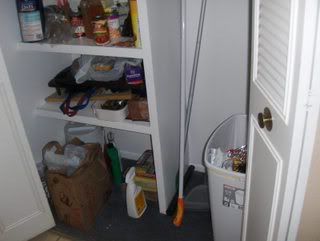 We don't have a medicine cabinet. You know how most people have a cabinet over their stoves? We have an ugly spice rack. So the medicines have to go in the pantry with everything else. Cool thing, is I found this little basket in the pantry filled with random stuff, half of which I threw away. It fit our medicines perfectly!
And here are my AFTERS:
I put our jars that hold our flours and sugars in the pantry. Our kitchen is SMALL, and they take up way too much needed counter space. I like them much better in here.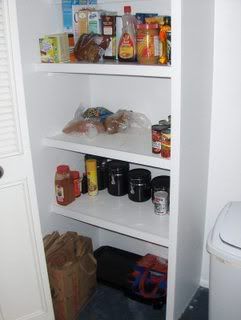 I put all the cleaning supplies in the laundry room. We have extra cabinets in there and it's a huge room. We should utilize it more.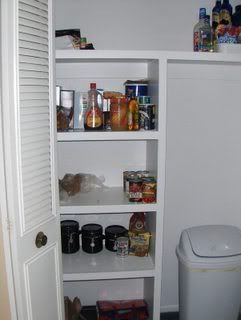 I also cleaned the top of the trash can and vacuumed that ugly carpet.
I would say this looks much better. Look at all that space I have! Almost a full shelf! I really wanted to clean out the fridge but I didn't have time. Doing all that took me about an hour (meaning the regular kitchen cleaning and the pantry cleaning/organinzation). Not bad! But I did have to go to work. I will tackle the fridge tomorrow.
What do you think? Did I do good?